Archangel Michael, also known as Saint Michael the Archangel, is an angelic warrior. He carries a sword on his right hand, wears a suit of armour, and a cape. He might also hold a shield on his left hand. Sometimes Archangel Michael holds perfectly balanced scales on his left hand, with which he weights souls. He is often depicting slaying a dragon, a reference to his role in the battle with Satan.
This image of the chief archangel as a warrior is familiar to most of us. However, while many passages mention Archangel Michael, there are actually no descriptions of his physical appearance in the Bible.
For most people, imagining what Archangel Michael looks like can help them envision while making the Archangel Michael Prayer. While we don't have any scripture to confirm facial features such as hair colour, skin colour or details of that matter, we do know that Archangel Michael is one Powerful Angel.
Archangel Michael is a fierce warrior who is prophesied to lead the Angels to victory over Satan in the end times (Revelation 12:7-12), so we know that Michael's appearance is one of a warrior and fighter so its fair to say he has a strong appearance.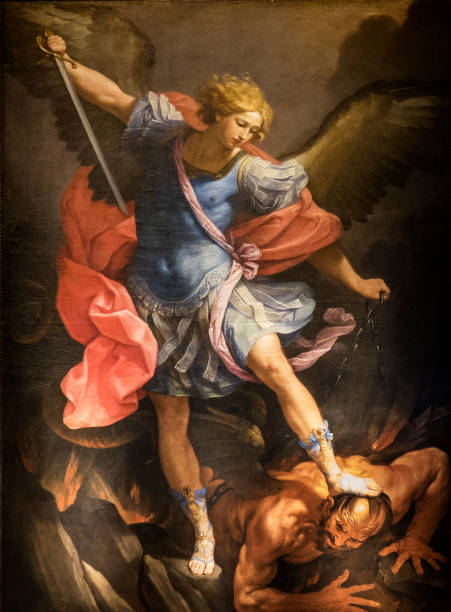 Depictions of Archangel Michael
Although there are no direct descriptions of his appearance in the Bible, Archangel Michael has been a central figure in many pieces of Christian art since Roman times. His appearance has been consistent in these depictions throughout the time. How is Archangel Michael usually depicted?
Archangel Michael is Often Depicted With A Sword
As a leader of heavenly armies, Archangel Michael has a powerful sword that emits a wonderful blue light, the sword itself as a whole is the spiritual symbol of power and luminous justice against evil forces.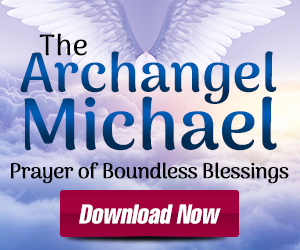 In Roman times of early Christianity leaders of armies wore glorious armour and had powerful swords, as Archangel Michael is the leader of heavenly armies he is often depicted similar to a mighty Roman.
The sword of St. Michael is so powerful, that many people pray directly to it. On our website you can find a prayer to the 7 swords of St. Michael.
Archangel Michael is Often Depicted Wearing Armour
As an angelic warrior, Archangel Michael wears armour to protect himself. Much like the Romans, he wears a shining breastplate in most artistic depictions of him. However, it is likely that this is not his only piece of armour. Archangel Michael is likely wearing the whole armor of God.
What Does Archangel Michael Hold in His Hands?
Archangel Michael is most often depicted holding a sword in his right hand, and scales in his left hand. However, there are many different representations of Archangel Michael, and he is shown holding different objects in his hands. When depicted as a warrior, he can also be shown with a shield or a lance, sometimes even using the latter to subjugate a dragon. He might also be shown carrying a trumpet, or a round object representing God's rule over the world.
What color represents Archangel Michael?
Archangel Michael is represented by the color blue. When praying to Archangel Michael, it is common to light a blue candle for him. The color blue has many associations besides Archangel Michael, and has been called the divine color blue.
So we can see the Archangel Michael looks like a fierce warrior with a big blue sword of light, wearing the armour of God and big angelic wings.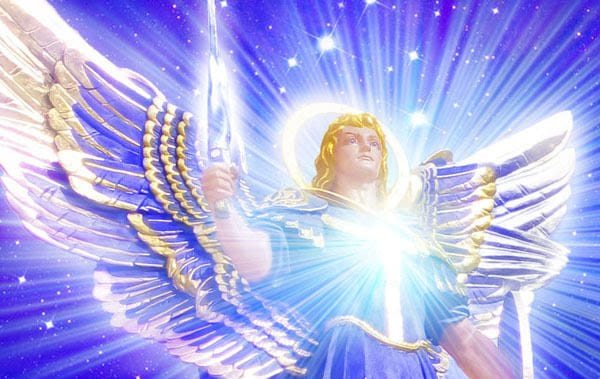 Archangel Michael's appearance is one of a fierce, bold yet gentle character who protects against evil and stands up for righteousness. You will know when you see archangel Michael as he will be blowing his trumpet announcing his return and on the front line fighting against evil.
Free Prayer to St. Michael Download
You can download a free prayer to St. Michael by following this link.